Ready-Made Dream (2013-18)
The disquietude of objects becomes narrative and symbolic in the Ready-Made Dream project, which constructs a larger-than-life contemporary vanitas. Through the juxtaposition of objects of desire, a hyperreal, Kodachrome view of mid-20th century consumer culture emerges in our collective rearview mirror, fragment by accumulated fragment. The analog and digital are combined in a shallow, trompe l'oeil space in which hand-painted passages merge with the 'broken brushstrokes' of the pixelated image. This installation work embraces the history of still life painting, draws on bedrock art historical images, ideas, and modes while picturing a familiar domestic universe of abundance, convenience and planned obsolescence found in advertising.

Ridderhof Martin Gallery, University of Mary Washington, Fredericksburg, VA
October 25 - Dec 2, 2018

---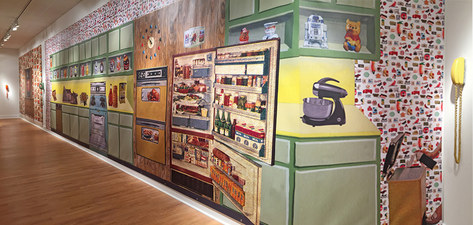 Home of Future Things, The University of Memphis (2016)
Home of Future Things - Ready-Made Dream (2016)
Installation at the Martha and Robert Fogelman Galleries of Contemporary Art at The University of Memphis, Memphis, TN. Curated by Patricia Lee Daigle.

Prints on vinyl with floor decals and found objects (mid-century telephones)
Wall panels are 9 feet tall by various dimensions from 9 - 33 feet long.
---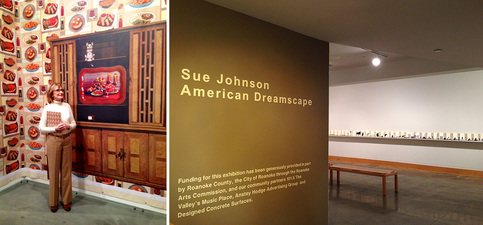 American Dreamscape (2013-2016)
American Dreamscape investigates the material culture of the post-World War II American Dream, especially as expressed in designs for the ideal home, and in particular, the post-WWII suburban, single-family home. Utilizing the traditions of vanitas and trompe l'oeil, Johnson endows the iconography of consumerism with deep and overlapping layers of meaning. Curated by Amy. G. Moorefield, American Dreamscape which includes the Ready-Made Dream project was developed and first exhibited at the Eleanor D. Wilson Museum, Hollins University (2013). Additional installation views as the project travels to the Walton Art Center, Fayetteville, Arkansas curated by Andrea Packard (2015).
---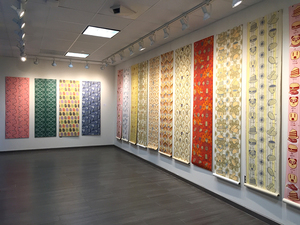 Subliminality (Sample Worlds)
Subliminality. New wallpaper designs (Sample Worlds) are silkscreen-printed on recycled mid-century wallpapers collected in Ghent, Belgium. Repeat patterns are constructed from rebus images that, once puzzled out, encourage contemplation of the natural and artificial worlds. Installation project simulates a retail showroom for viewing and choosing wallpapers for the home and office. Curated by Lori Rubeling.

Unique wallpapers were created during a residency at the Frans Masereel Centrum, Kasterlee, Belgium in 2014. https://fransmasereelcentrum.be/en/residency/sue-johnson/
---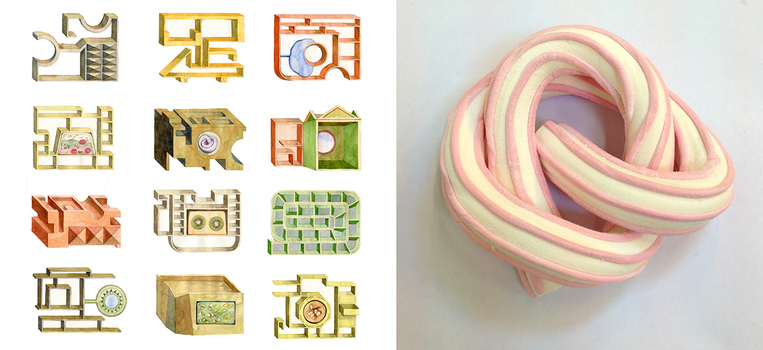 Designs for Imaginary Shelves (2011-13)
Inspired by a Chinese-style red lacquer circular shelf owned by her Swedish grandfather and given to her as a child, Johnson takes this primary form into new territories. More about the absence of things, these imaginary shelves are designs for building a modern cabinet of curiosities. Tapping into the autobiographical, the artist sketches initial models while traveling. The first set developed while sitting in cafés and bars in Oxford, England, and the second set came about while the artist spent a winter sojourn in Venice, Italy. Designs start in small notebooks aided by things at hand - tracing bar glasses for circles and using menus for rulers. Cultural objects appear within some of the shelf designs, including such things as Italian pastries and confections seen in cross-section views, art works visited while traveling, and stage set props from T.V. game shows.
---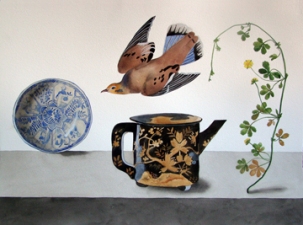 The Nature of Curious Objects: Sue Johnson's Paper Museum, Pitt Rivers Museum, Oxford, UK (2011-12)
The Nature of Curious Objects: Sue Johnson's Paper Museum
Pitt Rivers Museum, University of Oxford, Oxford, UK
24 January - 10 June 2012

http://web.prm.ox.ac.uk/rpr/index.php/article-index/12-articles/736-sue-johnsons-exhibition-2012

Exhibition catalogue, postcards and fine art reproductions of artworks in the exhibition available from the Museum Shop: http://www.prm.ox.ac.uk/shop.html
---

Collecting Patterns, Salisbury and South Wiltshire Museum, Salisbury, England (2013-14)
"Sue Johnson and General Pitt-Rivers: Collecting Patterns - The curious response of a 21st century artist to a 19th century archaeologist"
1 February - 10 May, 2014
Salisbury and South Wiltshire Museum, Salisbury, England

This exhibition draws together a comprehensive selection of the two series of work Johnson created for the Pitt Rivers Museum in Oxford in response to the illustrations in Pitt-Rivers' 'second collection' manuscript catalogue (see gallery above for all artworks). In addition, Johnson created new site-specific works for this show inspired by the Pitt-Rivers Wessex Collection at the Salisbury Museum. "Armchair Archaeology: A Pitt Rivers Wallpaper Collection" are new designs that illuminate both everyday and unusual objects, drawing connections between the patterns of Pitt-Rivers' collecting practices and those found on the surfaces of the objects themselves.
---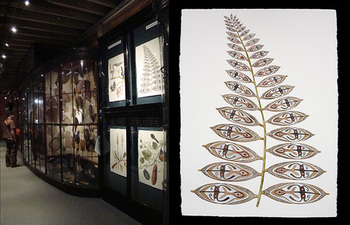 Curious Nature of Objects, Pitt Rivers Museum, Oxford, UK (2010-12)
The Curious Nature of Objects
28 January to 19 June, 2011

Pitt Rivers Museum, University of Oxford, Oxford, UK

First part of an exhibition project inspired by the pictorial catalogue of Pitt-Rivers' "second" collection held at Cambridge University Library. http://web.prm.ox.ac.uk/rpr/
---

The Alternate Encyclopedia project (1991-2006)
Documentation of The Alternate Encyclopedia and related projects including exhibitions at The Museum of the American Philosophical Society, Tweed Museum of Art, McLean Project for the Arts, Virginia Center for the Creative Arts, Carleton College, Midwest Museum of Art, Emory University, Sweet Briar College, Anderson Gallery/Virginia Commonwealth University, Bucknell University, Jan Cicero Gallery, School 33 Art Center, Delaware Center for the Contemporary Arts, St. Mary's College of Maryland, John Michael Kohler Art Center, Swarthmore College and the Maier Museum of Art. Includes early prints and drawings from 1991-1995.
---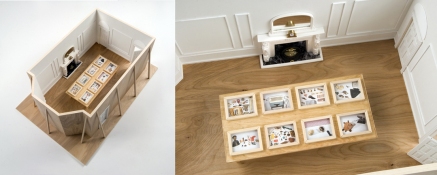 Moore Adventures in Wonderland, Rosenbach Museum and Library (2009-10)
Moore Adventures in Wonderland, Rosenbach Museum and Library, Philadelphia, PA
23 September 2009 - 8 June, 2010

This poetic archive and hyper-visual experience of Alice Through the Looking Glass using photography, gouache painting, digital collage and selected objects from the Museum's collections uncovers the unexpected connections between Lewis Carroll and 20th-century poet, Marianne Moore. All of the objects photographed are from Marianne Moore Collection. Johnson served as long-term artist-in-residence between (2006-09) to carry out research in the collections for this project.
---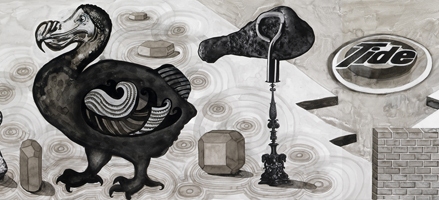 Eating Wonderland, University of Richmond Museums (2007)
Lora Robins Gallery of Art From Nature
University of Richmond Museums, Richmond, VA (2007)
Curated by N. Elizabeth Schlatter, the exhibition includes three bodies of work: New Stories From Wonderland (Life of the Dodo), The Incredible Edibles (ceramic sculptures), and Episodes in a Fantastic Landscape.
---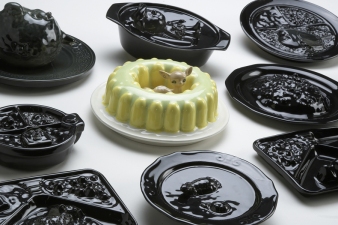 The Incredible Edibles
"The Incredible Edibles" were created during a residency at the Arts/Industry Program at the John Michael Kohler Art Center/Kohler Company in Sheboygan, Wisconsin in 2007. Each work is slip-cast vitreous china. Handcolored set was produced in editions ranging from 5 to 20 pieces. The Black Set is unique. A series of charcoal drawings were created in 2009 to accompany the sculptures.
---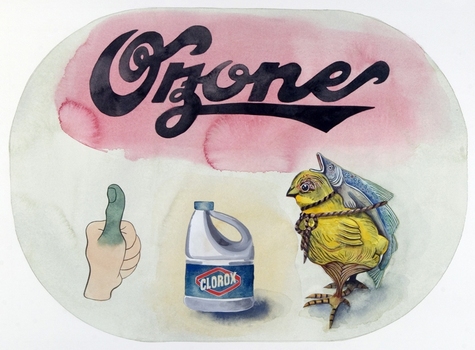 Cabinet: Raw & Cooked
Like a fantastic menagerie or bestiary, when seen together these works create a sort of "paper museum," a special collection of natural and artificial things in which the typically distinct worlds of the animate and inanimate are now conflated, compressed and fashioned into one new whole.
---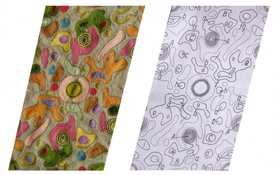 Sue Johnson at The Museum of the American Philosophical Society: A series of interventions by the artist (2005)
In a collaboration with the Museum of the American Philosophical Society, Johnson was invited to create "visual stories" for the exhibition, "Treasures Revealed: 260 Years of Collecting at the APS." Her 21st-century take on themes such as silhouettes, natural history expeditions, moon mania, and atomic bomb testing are mounted alongside artifacts on display.