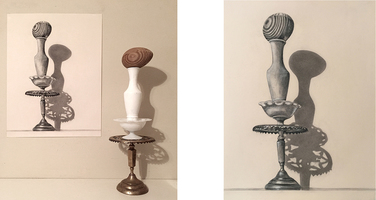 The Life of Objects, still life drawings (2015-17)
The Life of Objects
Series of charcoal and pencil drawings on toned paper
Studio view (left): still life and drawing, June 2016

---

The Life of Objects, artist books
Unique graphite and charcoal drawing over archival pigment prints of the artist's original drawings on watercolor paper. Concertina book format.
2018-22
---

Small still life drawings (2014-15)
Series of small charcoal drawings
16 x 12.5 inches
---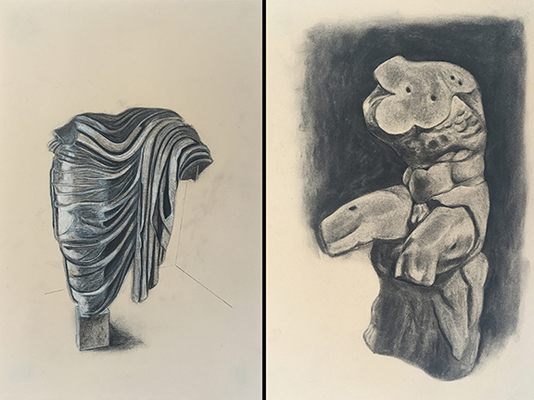 Drawings from Rome (2015)
Drawings completed while a visiting artist at the American Academy in Rome (2015). Works are from sculptures in the collection of the AAR and from the Vatican Museums.
---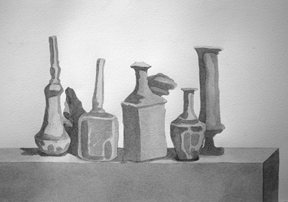 Thinking in Rome (2011)
Thinking in Rome. QuickTime movie. Two 20-foot long ink paintings completed while at The American Academy in Rome. Images find their origin in Italian buildings, monuments, frescos, mosaics, and museums, and in collection materials at the AAR.
---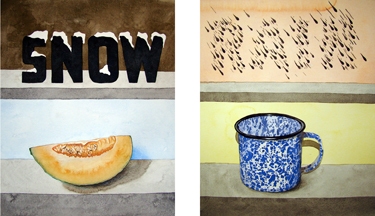 Shelves & Things (2011-12)
Gouache and watercolor with color pencil on paper. 16 x 20 inches.
---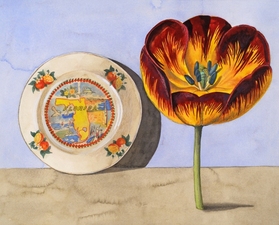 Tabletop Landscapes
Gouache and watercolor with color pencil on paper. 16 x 20 inches.
---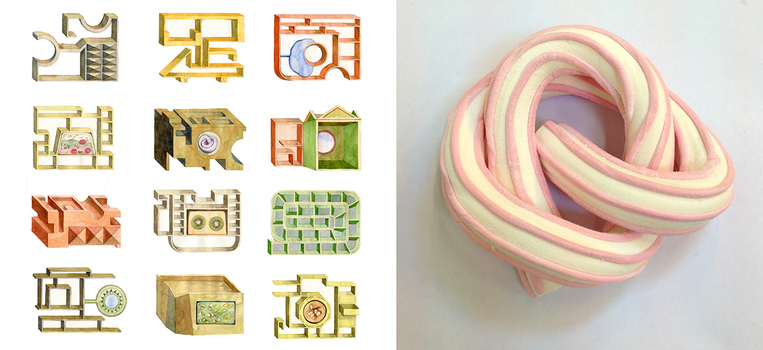 Designs for Imaginary Shelves (2011-13)
Inspired by a Chinese-style red lacquer circular shelf owned by her Swedish grandfather and given to her as a child, Johnson takes this primary form into new territories. More about the absence of things, these imaginary shelves are designs for building a modern cabinet of curiosities. Tapping into the autobiographical, the artist sketches initial models while traveling. The first set developed while sitting in cafés and bars in Oxford, England, and the second set came about while the artist spent a winter sojourn in Venice, Italy. Designs start in small notebooks aided by things at hand - tracing bar glasses for circles and using menus for rulers. Cultural objects appear within some of the shelf designs, including such things as Italian pastries and confections seen in cross-section views, art works visited while traveling, and stage set props from T.V. game shows.
---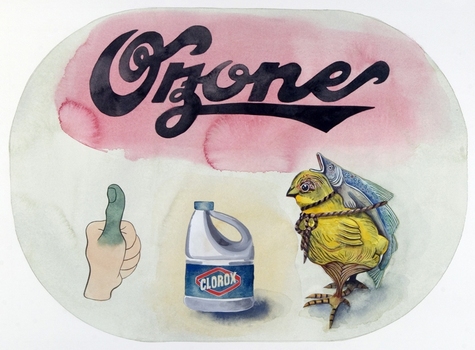 Cabinet: Raw & Cooked
Like a fantastic menagerie or bestiary, when seen together these works create a sort of "paper museum," a special collection of natural and artificial things in which the typically distinct worlds of the animate and inanimate are now conflated, compressed and fashioned into one new whole.
---
---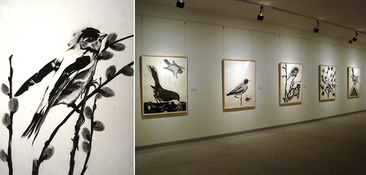 Bird History Drawings (1992-93)
The Bird History Drawings (1992-93)
Charcoal drawings on Folio paper
50 x 38 inches each
---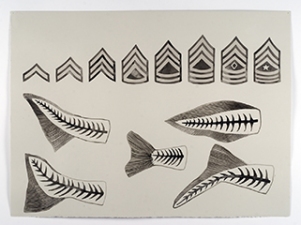 Lost Encyclopedia Drawings (1989)
India ink on paper. 22 x 30 inches. 1989. Studies for large scale paintings.