Exhibition: Chasing Bugs: Insects as Subject and Metaphor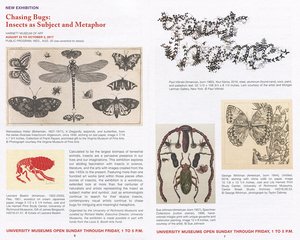 Lila and Joel Harnett Museum, University of Richmond Museums

August 23 - October 3, 2017




Works by Sue Johnson are included in this exhibition.




From the exhibition brochure:

"Calculated for be the largest biomass of terrestrial animals, insects are a pervasive presence in our lives and imaginations. This exhibition explores our abiding fascination with insects in f science, literature, and the arts with images created from the late 1400's to the present. Featuring more than 100 works (and within those pieces often scores of insects), the exhibition is a wondrous, extended look at more than five centuries of naturalists and artists representing the insect as subject matter and symbol. Just as entomologists continue to search for their elusive insects, contemporary visual artists continue to chase bugs for intriguing and meaningful metaphors."






---
Art Workshop with Sue Johnson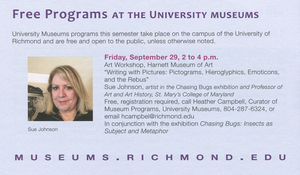 Writing with Pictures: Pictograms, Hieroglyphics, Emoticons and the Rebus

Harnett Museum of Art, University of Richmond Museums

Friday, September 29, 2017 2-4pm




In conjunction with the exhibition, Chasing Bugs: Insects as Subject and Metaphor




Registration required: Call Heather Campbell, Curator of Museums Programs at 804-287-6324 or email: hcampbel@richmond.edu
---
Brooklyn Rail, review, (Not So) Still Life at Wave Hill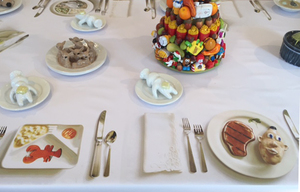 April 5 - July 4, 2016

Wave Hill, Gyndor Gallery

Bronx, NY
---
Sue Johnson: Home of Future Things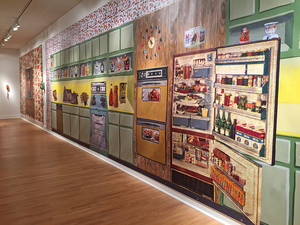 The University of Memphis

Martha and Robert Fogelman Galleries of Contemporary Art

September 16 - November 11, 2016

Artist Lecture: Thursday, Sept 15, 7pm

Opening Reception: Friday, Sept 16, 5-7:30pm




3715 Central Ave (Art and Communication Bldg), Memphis

www.memphis.edu/fogelmangalleries




Gallery Guide download link on Fogelman gallery website